Blog
Wallpaper ideas for your kitchen
Transform your kitchen with these stylish wallpaper ideas. From bold patterns to subtle textures, elevate your space with our top kitchen wallpaper picks.
The kitchen is the heart of any home, so it needs to feel like a member of the family. To bring light, colour and energy into any kitchen, don't just paint it, Wallpaper It! We have some great kitchen wallpaper ideas that will bring your kitchen to life, whether you live in a modern home with contemporary décor or love that country cottage look.
We'll also look at the benefits of wallpapering your kitchen and which types of wallpaper are suitable for use in this hot and humid environment. And to help you choose, we'll finish off by giving you our top three kitchen wallpaper ideas that we love.
The benefits of using wallpaper in your kitchen
It's an affordable way to bring patterns into your kitchen – kitchen wallpaper is a much cheaper and easier option than tiles, which can be very expensive and tricky to install.
It's quick and easy – whereas tiles or other décor may take longer to install, a kitchen can be wallpapered over a weekend. Get the preparation right, and it's quick and easy to bring some gorgeous designs into your kitchen.
Paste-The-Wall wallpaper is easy to hang – simply prepare your walls, apply the paste to the walls, and your wallpaper goes straight up! If you're a competent DIY'er, it's easy to add some colour, pattern or texture into a kitchen with wallpaper and complement it with matching paints to pick up on accent colours.
It's easy to look after – kitchen wallpapers are designed to cope with the higher levels of humidity and temperatures, as well as being wipe-clean for a more hygienic kitchen.
There are plenty of designs to choose from – Floral for that country cottage look, or geometric for an on-trend contemporary design? There are hundreds of designs to choose from to suit your personality and to match your home décor.
Which wallpapers are best for kitchens?
Not all wallpapers are suitable for use in kitchens. It's important to remember that a kitchen is usually a more humid environment and that in areas around cookers, hobs and grills, the temperatures can be much higher. Look for wallpapers that specifically state that they are suitable for use in these kinds of environments (you'll often find that they mention they can be used in both kitchens and bathrooms).
The main types of wallpaper that are recommended for use in kitchens are vinyl and washable wallpapers. Vinyl wallpapers use a paper backing to adhere to the wall, and the design is then printed onto a vinyl layer. Vinyl wallpapers are incredibly tough, fade-resistant, and easy to wipe clean.
Washable wallpapers are much thinner and have the pattern printed onto the base paper, which is then covered with a thin transparent layer.
Having wipe-clean wallpaper ensures that your walls are resistant to splashes and spills. Kitchen wallpapers are surface-treated so that they don't absorb moisture, so they should be ideal for spritzing with antibacterial cleaner to keep your kitchen walls clean and hygienic.
Tips for choosing kitchen wallpaper
Pick a colour that suits the size and brightness of your kitchen. If you have a small space, it may be best to limit the use of bold patterns and keep it bright, light and simple to give the illusion of more room.
If you have a big kitchen (lucky you!), why not use one wall as a feature with a bold pattern and complement it with matching paint tones on other walls?
Think about the rest of your home décor. If you have an older home with more traditional interiors, a heritage design with botanicals as a theme may be more suitable. A modern home can accommodate a more dynamic, geometric pattern. Ensure that the design concepts flow effortlessly from one room to the next.
Remember to choose wallpapers that are suitable for hotter and more humid environments and are washable or wipe-clean.
If you don't want to wallpaper the entire kitchen, pick elements that will add a little splash of colour, like adding wallpaper to the back of cupboards and behind shelves. It's a quick and easy way to freshen up your décor.
For backsplash areas, choose a vinyl wallpaper that will be resistant to water and cooking splashes and is easy to clean.
Three of the best kitchen wallpapers
So, which design do you choose? To help you narrow down your choices, we've put together a list of three of our favourite kitchen wallpaper ideas, all of which are suitable for use in a kitchen.
Trajan Tile Grey Wallpaper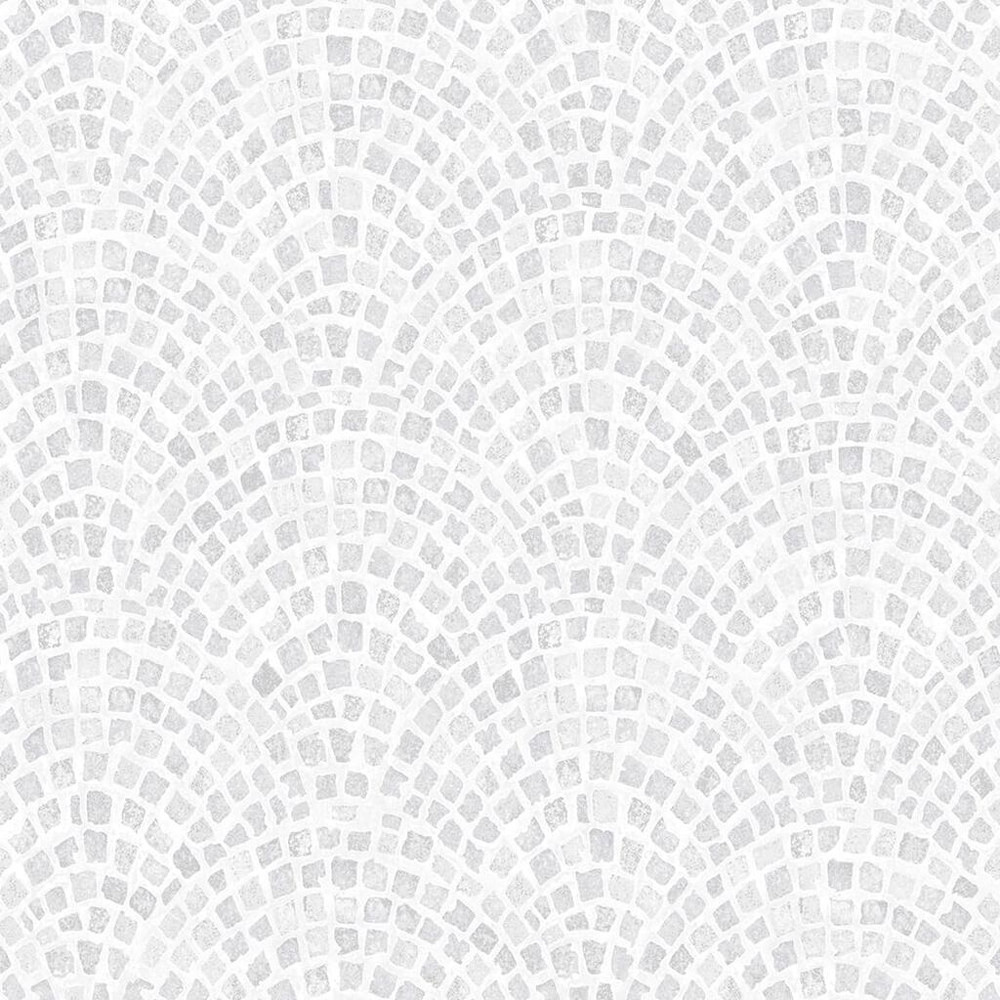 This silver tile/mosaic pattern is perfect for any kitchen. It features a scalloped mosaic design influenced by the ancient Romans and is still as stylish today. The silver reflects the light, making this an ideal choice for smaller kitchens that need a bright boost. It's splash-proof and durable, resistant to heat and humidity and super-easy to clean.
Laura Ashley Cottonwood Pearlescent White Wallpaper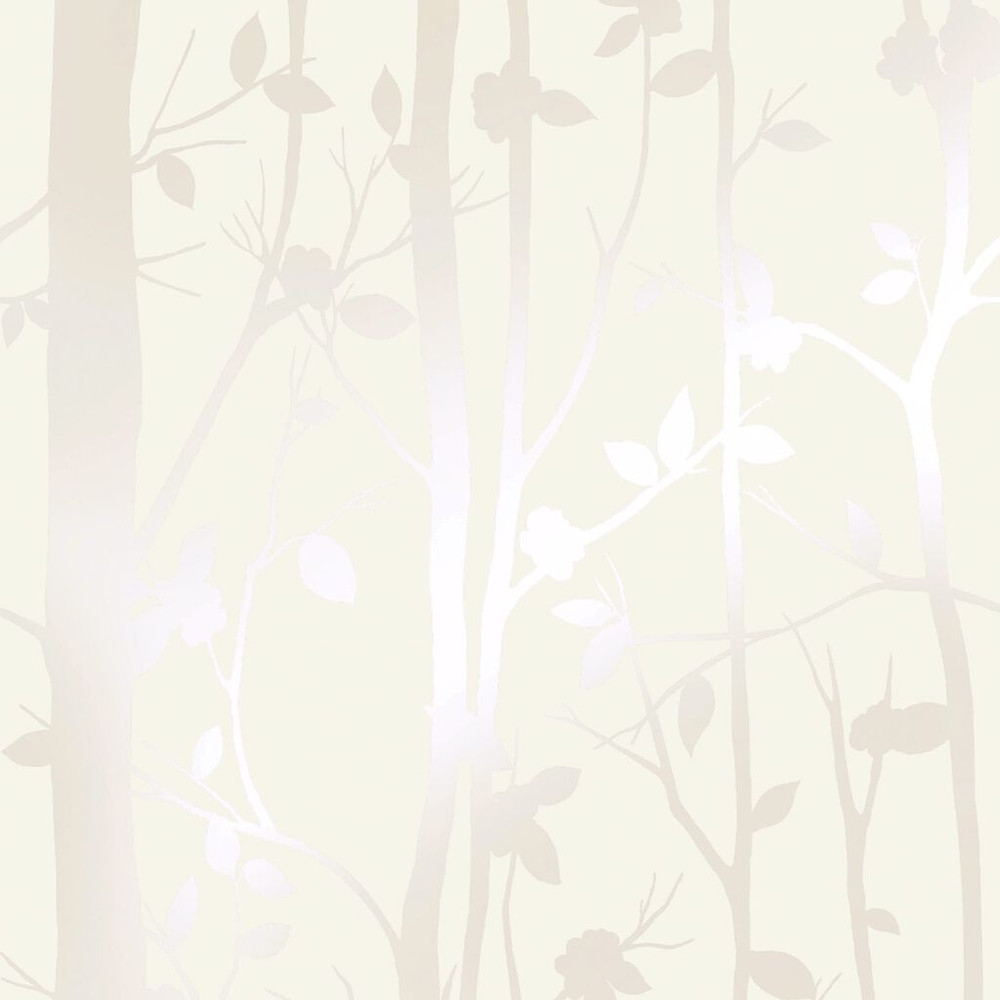 A shimmering silky-smooth finish and the lightest of touches make this gorgeous pearlescent white wallpaper a winner in any room in the house, including the kitchen. This combination of a neutral white background is given added interest by the metallic glitter of botanicals that bring lightness and brightness to make smaller spaces feel larger. It's easy to care for and is robust enough to cope with the everyday knocks and bumps, occasional spills and humidity of a modern family kitchen.
Hexagon Lattice White Wallpaper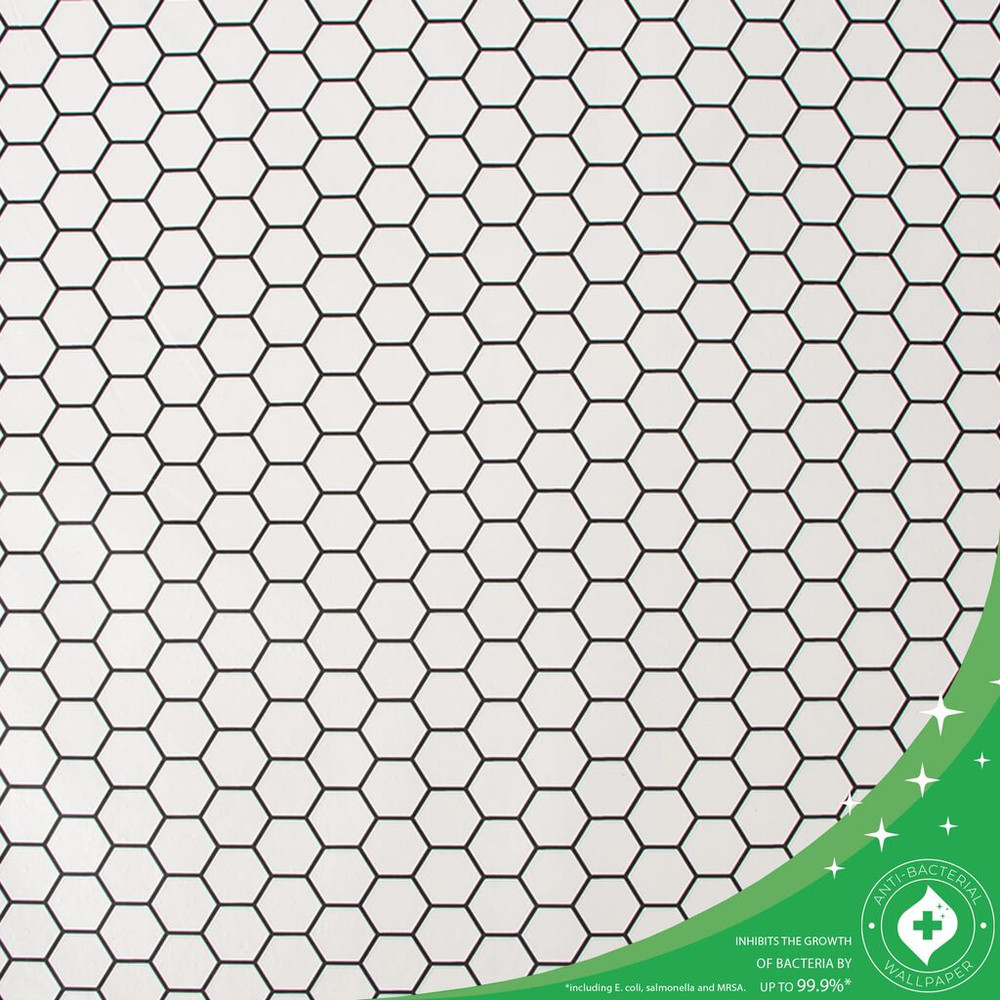 This delightfully modern honeycomb pattern is super-chic and very contemporary. The hexagon repeat pattern is outlined in black to make a bold statement, while the background neutral white colour is ideal for brightening up any smaller kitchen. This Hexagon Lattice White wallpaper is very strong and durable and also has anti-bacterial qualities, making it an excellent choice for food preparation areas in the kitchen.