Blog
How to Choose Wallpaper for a Living Room
Learn how to choose wallpaper for a living room with Wallpaper It, so you can impress guests and create that dream living space you've always desired.
Just how do you choose wallpaper for a living room? With thousands of different designs and styles on offer, it can be a bewildering decision. But don't worry, Wallpaper It is here to help make things a little simpler.
Our handy guide will show you how to choose wallpaper for a living room based on things like your current décor, colour combinations and whether you should go for patterned or plain styles. We'll also go through technical questions, such as working out how much wallpaper you'll need and give you a few pointers with a selection of our favourite living room wallpapers right now. With top tips and handy hints, this is the only guide you need to create your perfect living room.
Match Your Wallpaper Style With Living Room Decor
Let's start with what you've already got. Just because you want to change your living room wallpaper, you don't have to buy new furniture or change the carpets as well. If you love rustic, then hedgerow florals are your go-to choice to achieve that charming country-cottage look. However, if you prefer something a little more modern, geometric patterns or metallic shimmers are great options.
Your décor gives clues about your personality too. If you're a bit of a traditionalist, the elegance of a heritage damask pattern will fit right in with your overall look. If you have key pieces of furniture, then a more neutral background will allow them to take centre stage and really stand out.
Top Tip: Think about each aspect of your décor, from the furniture and accessories you already have to fixtures such as ceiling roses, cornicing or an ornate fireplace, for example. Your wallpaper pattern should complement these elements rather than try to compete with them.
Think About Colour Combinations
Pick colours that work within the same group of tones so that they don't end up clashing with the cushions or subduing the sofa. Look for subtle gradients within the same colour theme. So, for example, if you already have rich plum colours within your existing décor, try adding paler dusty pinks to lift it and add some lightness to the room.
Next, consider if a neutral theme would give you more options. Neutral colours such as champagne, grey or off-whites allow you to play with other colours without worrying about clashing. If you have artwork on your walls, they can also produce a background that lets the artwork capture the eye without overwhelming the finer points of the painting or picture. Remember that the trick is to get your colours to work together rather than conflict with each other. Pick a theme colour and work around it to embolden some aspects of your décor.
Top Tip: Download a colour wheel off the internet and see how colours have 'partners', how some groups of colour sit next to each other, and how others simply don't work at all.
Pattern or Plain Wallpapers
Do you go for a pattern or a plain look? A complex floral design or a simple block colour? There are advantages to both. With patterns, you have an infinite variety of options on offer. You can go for a classic botanical heritage paper that will bring a touch of the country cottage into your home. Patterns such as Laura Ashley Burnham Pale Seaspray wallpaper also combine a gorgeously light and whimsical design with an on-trend colourway to give it a more contemporary look.
Plain wallpapers are easier to hang as there is no pattern to think about. If this is your first time delving into wallpaper ideas for living rooms and you're a bit of a DIY novice, it may be wiser to go for a plain or relatively simple pattern.
Top Tip: Consider the size of your living room. A big, bold pattern in a dark colour may make the space feel smaller, whereas a lighter plain colour or a light pattern that uses metallics and mica to give it a shimmer will add a sense of space and lightness.
Textured or Smooth
It's not just colours and patterns that you need to think about when choosing the best wallpaper for a living room. Adding texture can create a new level of elegance, especially if you go for a classic design such as Laura Ashley's Redbrook Wall Panel. Go rustic with a brick paintable textured wallpaper that can be painted to give it a natural effect. Or pick a simple, contemporary pattern such as Silk Sparkle Texture Neutral wallpaper.
Smooth wallpaper gives a sleeker look. You will have to be very precise and ensure that your walls are super-smooth before you hang smooth wallpaper, though, as any imperfections will show up very clearly, especially if your wallpaper is a plain colour too.
Top Tip: If you have uneven walls, such as in an older property, textured wallpaper is a better choice as it is much more forgiving when it comes to covering up those lumps and bumps.
Whole Living Room or Accent Walls
Accent or feature walls give your living room a focal point where a bolder pattern can take centre stage. The remaining walls work to balance the design and pick up on colours within the feature wall.
For example, you could pick a heritage pattern for an older property, and have a feature wall with a floral theme, such as the bright and colourful Joules Fields Edge Floral Antique Crème wallpaper. To complement this feature wall, you could pick one or two colours within the pattern, such as the dusky pink or the gorgeous teal blue, and either paper or paint the remaining walls in a plain colour.
If your space is larger, you may be able to use a bolder pattern on the whole room without it becoming too overwhelming. But for smaller living rooms, whole room patterns should be kept subtle rather than too big and blousy. Something subtle such as a damask design works well without feeling too 'cluttered'.
Top Tip: Think about the whole design rather than just the accent wall, and pick paints that echo the more subtle tones within the pattern.
Play With Light
Light is the final design consideration that we need to look at, and a lot will depend on the size of your room, as well as natural light sources, floor colouring, and so on. For a small room or one that has a dark wood floor, lighter colours need to be used to prevent it from turning into a bit of a gloomy dungeon! Metallic wallpapers, such as the gorgeous Water Silk Sprig Silver wallpaper, and those that use mica colours reflect light and give the surface of your walls a'shimmer' that can brighten up even the smallest, darkest living room.
If your room is larger or has multiple natural light sources, you can get away with darker colours to give the room a cosy feeling. Go for more matt finishes to prevent the colours from looking too 'shiny', which can detract from the overall effect.
Top Tip: If you really have problems trying to lighten up a space, combine a metallic wallpaper with mirrors to reflect and bounce the light around.
Determine How Much Wallpaper You Need
So you've thought about your design, but just how much wallpaper do you need to complete the job? The easiest way to work it out is to use our roll calculator. All you have to do is measure the wall's height and width in metres, type in the numbers and hit 'Calculate', and it will tell you exactly how many rolls you need for that pattern.
When you're working with pattern wallpaper, you must get the patterns matched up properly. When you buy your paper, you'll see different classifications such as 'straight match' or 'offset match'. You will also see a 'pattern repeat' indicator, which tells you at what point the pattern is duplicated so that you can line the edges up correctly.
If you go for a patterned paper, then bear in mind that you will have a greater amount of 'wastage' than with plain wallpaper, so you will have to buy extra.
Top Tip: Measure twice! Always make absolutely sure you measure your walls accurately to avoid costly mistakes. See our Wallpaper Guide, which will give you details of how to measure exactly, including taking into account door and window frames.
Our Favourite Living Room Wallpaper Products
Laura Ashley Josette Dove Grey & White Wallpaper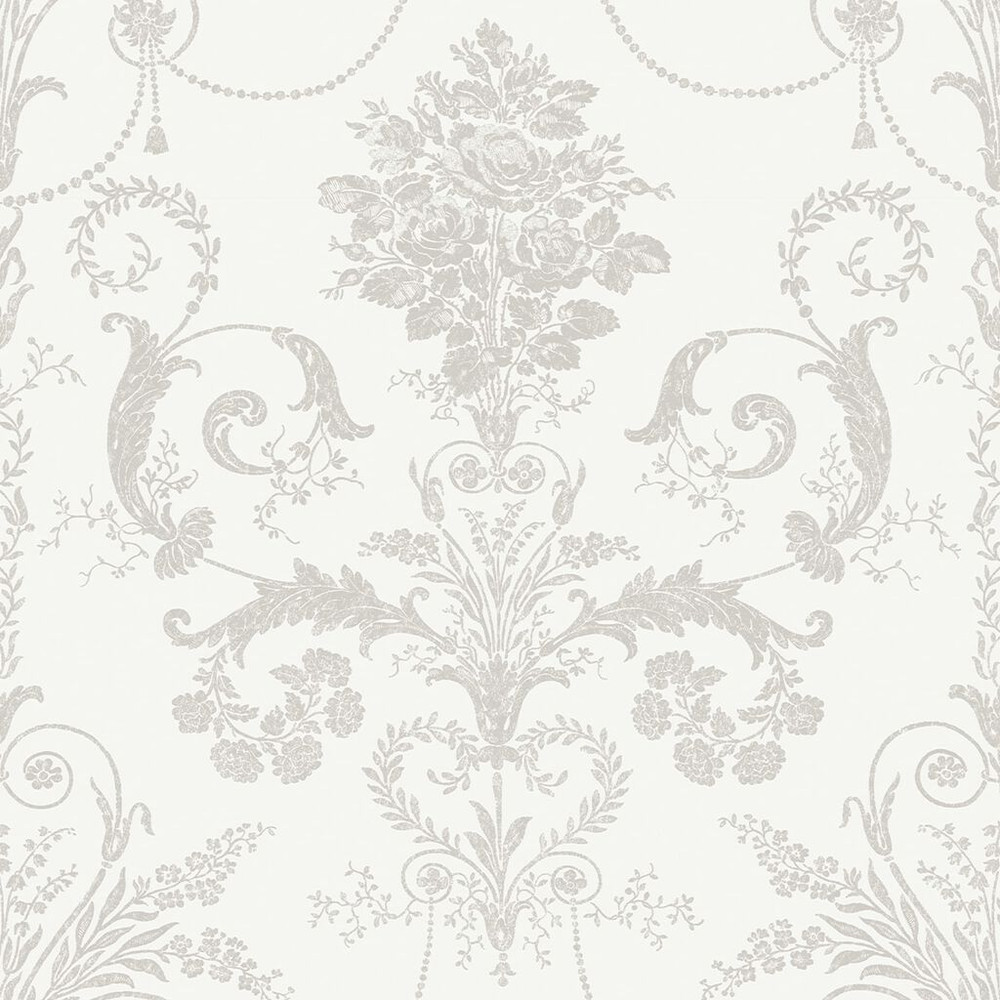 A real classic and one of our favourite variations on this heritage pattern, this elegant wallpaper uses the Josette design with a subtle combination of grey and white. The effect is gorgeous and will turn your living room into something that looks like it's stepped straight out of a French chateau!
Royal Palm Moonstone Wallpaper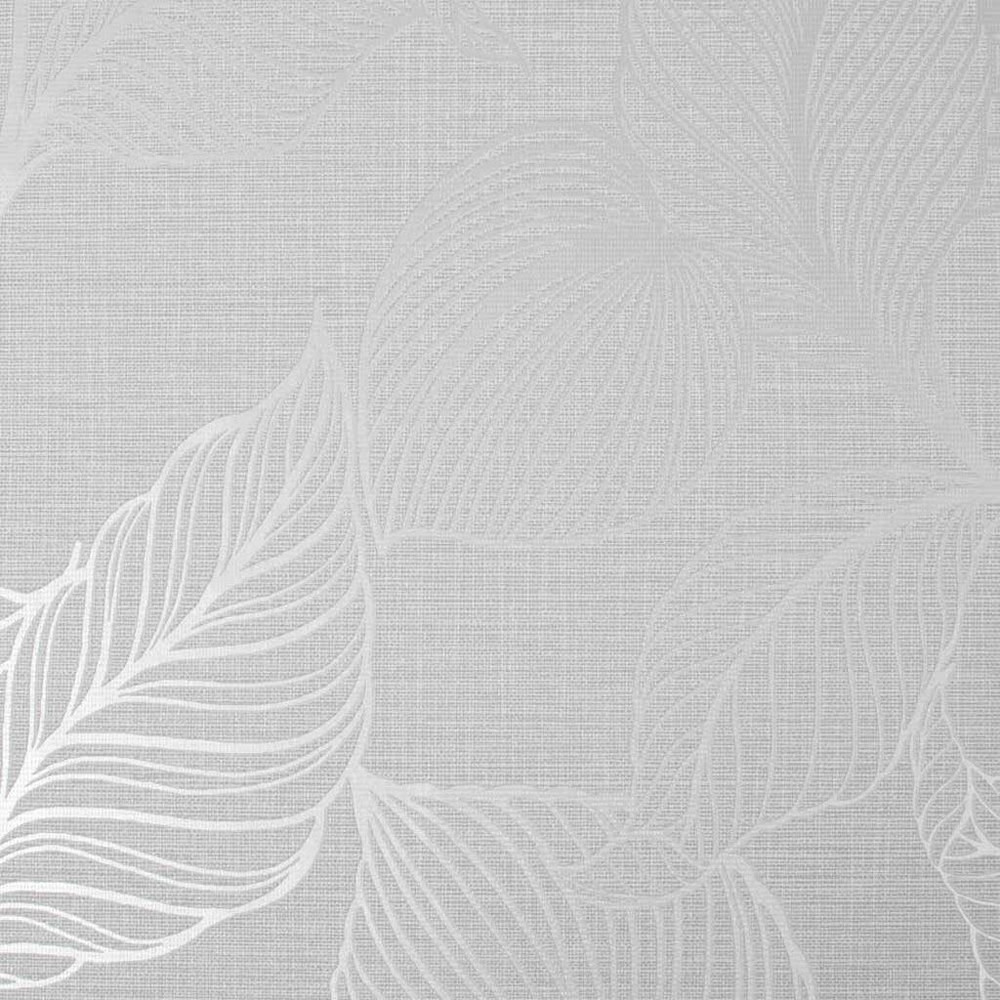 A wonderfully ethereal design, this wispy grey design uses the natural beauty of Hosta leaves and a shimmering metallic finish to bring light into any room. The woven background gives it a textured finish, too, making it ideal for a modern living room.
Laura Ashley Parterre Sage Wallpaper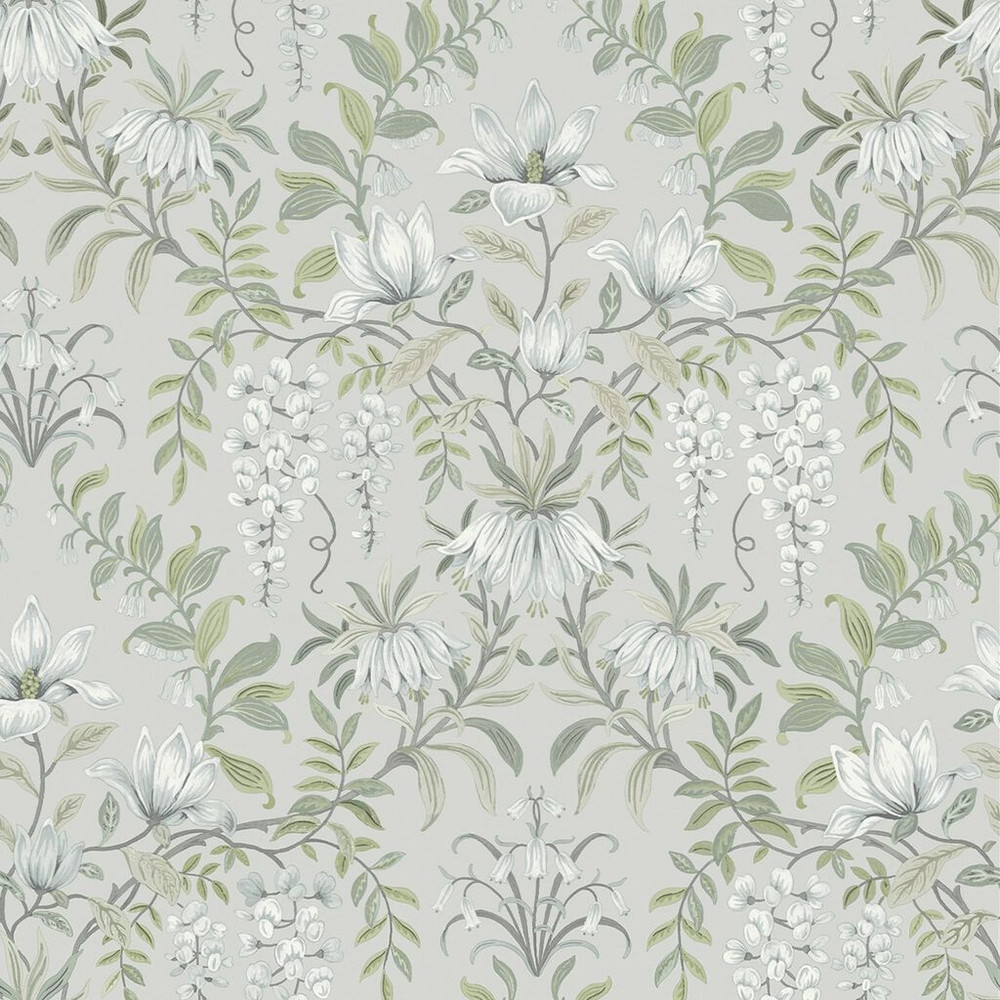 Sage is the big talking point in interior design right now, and this beautiful wallpaper combines this subtle colour with charming floral aspects for a real heritage look. The vintage pattern has been brought up to date by the use of the sage green tones, making this one a real winner, especially for older properties.